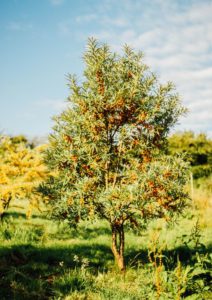 We have been growing sea buckthorn on our family farm on the north Essex coast since 2009, trialling a number of different varieties from across Europe and Russia, so that we know which varieties are best suited to our climate and soils. We harvest our crop in July and August and aim to sell berries to restaurants across the UK as well as other businesses and individuals interested in sea buckthorn. We currently grow about 5000 plants of 30 different varieties and we aim to expand our orchard over the coming years to meet the growing demand for sea buckthorn with a British provenance. We are working closely with the Lisavenko Research Institute in Siberia, the world's leading research institution on sea buckthorn as well as European growers and researchers and UK experts on crop agronomy and soil science to establish sea buckthorn as a crop for the UK.
Visit our blog page for monthly field updates from our Director David, who manages the orchard.

Rather than see all sea buckthorn as generic we believe it is important to focus on the plant itself when thinking of the final product. This is why we go to such lengths to understand each variety. Each sea buckthorn species, sub-species and commercial variety offers a different nutrient profile which influences taste and product quality. For example some are sweeter than others and all have different concentrations of various minerals and vitamins.
Our sea buckthorn project is all about making our farm more resilient at a time when there is a lot of uncertainty in farming. It will allow us to become closer to you, our customers, and enable economic sustainability for the farm so that we can invest in the wider business, boosting local employment opportunities.